Using data to improve safety in urban traffic
Wolfsburg/Hamburg – 20 October 2021. Modern vehicles from the Volkswagen Group are equipped with numerous sensors that make driving significantly safer and more comfortable.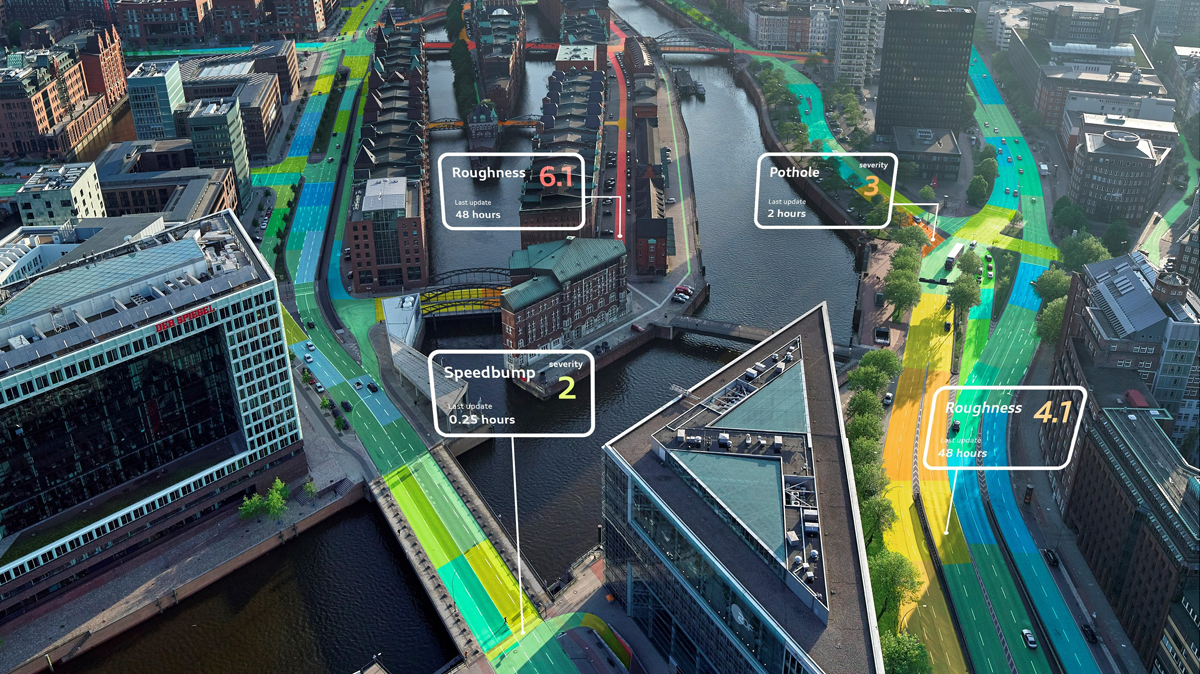 How data can increase road safety is shown by a project study in the city of Hamburg
Vehicle data collected by sensors not only makes a valuable contribution to the development of future driving functions. Modern vehicles from the Volkswagen Group are equipped with numerous sensors that make driving significantly safer and more comfortable. However, the vehicle data collected not only makes a valuable contribution to the development of future driving functions. It can also provide added value for citizens, cities and their administrations. In cooperation with the city of Hamburg, Volkswagen Group Innovation, as part of the strategic mobility partnership, has investigated how the intelligent use of anonymized sensor data can contribute to greater safety in urban traffic. The result: information on road conditions and friction data generated in real time by cars driving in the urban area provides particularly significant added value for the road administration. NIRA Dynamics AB, a CARIAD subsidiary, already offers this data from road vehicles to public authorities throughout Europe.

"Anonymized sensor data from our Group vehicles has the potential to create enormous added value for cities, municipalities and citizens, especially in the areas of traffic safety and road administration. The results from the city of Hamburg's research project with Volkswagen Group Innovation show how data can be used profitably for cities and also what specific needs and structures of administrations we need to take into account," says Lisa Åbom, CEO of NIRA Dynamics AB, a subsidiary of CARIAD.
"The more vehicles with sensor technology that drive through the city, the larger and better the quality of our live database. This, in turn, helps us to detect changes in the condition of the roads more quickly over time, to react quickly to deteriorations and to rectify them," explains Jens Burmann, Project Manager at the State Office for Roads, Bridges and Waterways of the Free and Hanseatic City of Hamburg.
Project study: Sensor data for greater safety
A key objective of the project study was to review and qualitatively assess the information that can be generated by the vehicles in near real time. From this, the project partners derived possible applications that could contribute to greater safety in urban traffic and support strategic maintenance management.
In the future, for example, the sensor data could help the city coordinate its winter services more quickly and efficiently. Information registered and provided by the vehicle on outside temperature and grip or possible tire spin due to icy conditions can be used to send gritters to areas where roads are particularly slippery and traffic safety is at risk. The road friction value is used to estimate how wet or icy the road is for the purpose of winter maintenance. The value is given on a scale from "very slippery" to "very good tire grip." Findings from NIRA Dynamics' existing collaboration with Sweden and the Netherlands show that this can save up to one third of road salt, for example.
Another example is the targeted detection of road damage. Thanks to the vehicle data supplied, which depicts and supplements the current picture of the road situation in almost real time, road damage caused by deviations from the desired condition can be promptly detected, evaluated and, if necessary, quickly eliminated. Here, too, the road condition is described by different levels, from "very good" to "very poor".
Data from more than 35,000 test kilometers
As the data basis, the project partners used selected and specially identified taxis as well as Volkswagen test vehicles, which covered a total of over 35,000 test kilometers in the Hamburg urban area. The sensor data is made available on Urban Data Platform Hamburg (UDP_HH) operated by the Hamburg State Office for Geoinformation and Surveying (LGV) in compliance with data protection regulations, merged with other data from the various areas of the city, and made usable for a wide variety of applications via standardized interfaces.
Up to 40 million connected Group vehicles by 2030
Many vehicles of the Volkswagen Group brands have the intelligent sensor technology on board as standard equipment. By 2030, CARIAD plans to connect up to 40 million vehicles of the Volkswagen Group to the cloud. NIRA Dynamics already offers data from series-production vehicles throughout Europe for public authorities. The software company is also already in talks with other German and European cities to make the added value of this data available to even more municipalities. If data can be combined from as many road users as possible, the quality of the information can be further improved.
Please register here if you would like to continue receiving CARIAD media releases in the future.
Fabian Lebersorger
Tel. +49-174-612-78-29