Insight & Career Day: CARIAD Digital Business & Mobility Services
Gain insights into our tech and discover our product development functions for digital business and mobility services.
Berlin
02.06.2022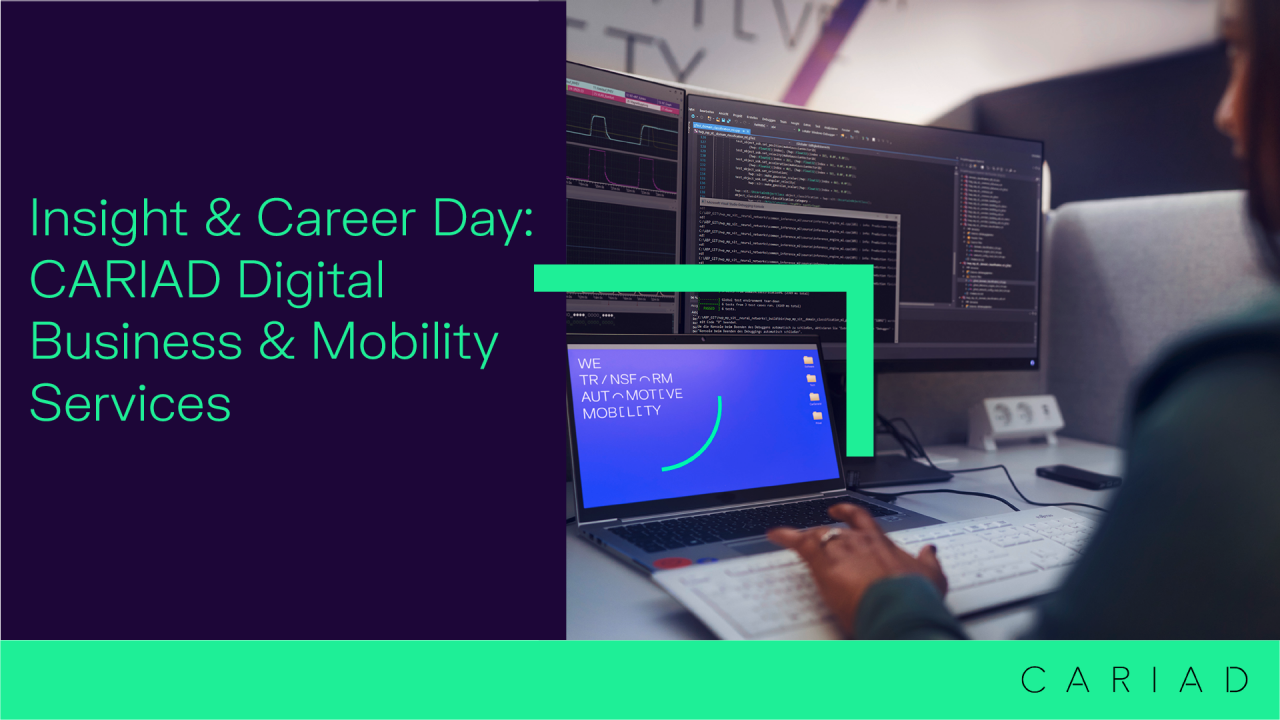 What's the event about?
Learn about our diverse products with keynotes from product experts
Gain hands-on experience through live applications and scenarios
Work on one of our case studies within simulated product teams
Use the opportunity to talk face-to-face with our colleagues in development and product management 
And of course, find out more about the great benefits, career possibilities and company culture at CARIAD!
When and where
The Insight & Career Day: CARIAD Digital Business & Mobility Services will take place on June 2, 2022 in Berlin, from 10:00 to 17:30. More details will follow with your invitation, but please save the date!
Applications are open until Sunday, May 22, 2022.
You'll receive feedback about your application on May 24, 2022. 
How to apply for the event
If you'd like to join our event, apply now!
As there are numerous open positions in the Digital Business & Mobility Services division, please let us know if there are any specific areas that you're interested in. It'd be great if you could also include a brief motivational letter to explain why you'd like to join our event.
I'm a developer / software engineer
Please apply for this event if you have:
3+ years of experience in software engineering (backend, mobile) – graduates are also highly welcome!
ESSENTIAL: Deep understanding of at least one coding language, e.g. Golang, Kotlin (backend and for Android), Java or Swift
Working knowledge of cloud-based development (preferably AWS or Azure), gRPC is highly welcome
Expertise in DevOps and systems engineering is highly welcome  
I'm a product manager / product owner / business engineer

Please apply for this event if you have:
A passion for developing innovative solutions for digital business and mobility services in an automotive environment
At least 3 years of experience in product management or product ownership, as well as in customer-facing roles, working with software products and in cross-functional teams
Experience in software development methods, procedures and mindsets within an agile environment (particularly Scrum and SAFe), ideally in an automotive context
Strong problem-solving, communication, negotiation and presentation skills with proactive, confident and curious personality
Your travel costs will be reimbursed. More insights will follow with your invitation. We look forward to receiving your application.

Contact
If you have any questions, please feel free to get in touch with Jennifer, Tobias or Imke:
Jennifer
Recruiting Business Partner
Tobias
Head of Competence Center Product Management
Imke
Head of Competence Center Software Development
About us
In our Mobility Services & Digital Business division, we're developing and managing all prerequisites to create an outstanding customer experience and enable all Volkswagen Group brands to offer comprehensive mobility services – from eCommerce solutions and frontend and backend development, to customer experience management and analytics.
We're responsible for central systems like One.Shop (our online shop system where you can buy and lease your future car in a completely digital way), the We Connect ID. app (essential for all the new ID. cars to check battery status, look for charging points and start preheating), the IdentityKit (our central identity and access management system and home of customer data), our central CRM system for all brands, as well as a whole Data Analytics Platform with use cases driven by customer and vehicle data. 
We're looking for talented, digital minds like you to help us create code that moves the world! Together with you, we'll build outstanding digital experiences and products for all Volkswagen Group brands to transform automotive mobility.
Join us as we shape the future of the car and everyone around it. We're currently looking for developers with various focus areas, such as backend development, as well as business engineers, product owners and product managers. 
With our Digital Business & Mobility Services career event, you can expect a day with inspiring speakers and unique insights into our products, as well as networking opportunities and lots of interesting discussions. As part of a simulated product team, you'll carry out case studies and receive valuable peer feedback. And perhaps you'll even have an HR interview on the same day!