VW.os: The heart of our tech stack
With a consistent development environment and a modular structure, our new VW.os software platform will help us to achieve simplification, efficiency and scalability.
The Volkswagen Operating System, VW.os, is the heart of all software-based functions in the CARIAD tech stack. The foundation of future generations of Volkswagen Group cars. Despite its name, VW.os does not imply that we are developing an operating system from scratch. Instead, think of it as a system of systems: forming a scalable and unified software platform of best-in-class elements developed in-house, combined with solutions from our partners.
The CARIAD tech stack consists of three layers.
At the bottom is the hardware layer, comprised of a uniform and scalable end-to-end electronics architecture. This includes zone controllers, a high-performance computer and tailor-made semiconductors. 
At the top of the platform is the application layer, which hosts customer-facing features and functions. 
In between these two layers is the software layer. This is where VW.os is located. The operating system sits alongside other software features like over-the-air update capability, the Big Loop data aggregation system and VW.AC (Volkswagen Automotive Cloud). Acting like the glue that holds everything together, the software layer also includes all middleware necessary to seamlessly integrate the hardware and application layers.

VW.os consists of an SDK (software development kit), reference applications, runtime software components and configuration tools for embedded software and cloud connection.
How does the new platform differ to current solutions?
Nowadays, cars can feature more than 100 ECUs (electronic control units) that are responsible for all kinds of specific functions. Each of these individual ECUs is based on its own proprietary software stack. Not only is this problematic for the communication between the ECUs, but it also makes it difficult to carry out updates – especially for functions that rely on several ECUs.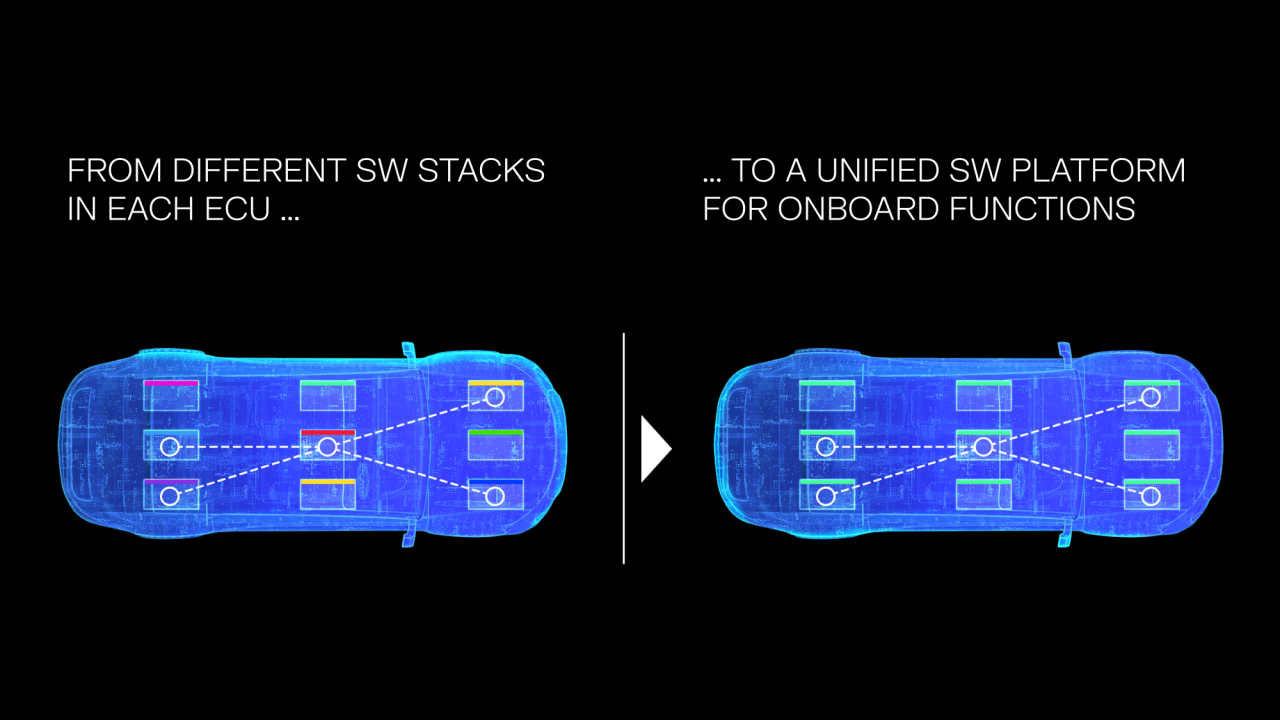 In the future, the software layer in our tech stack, including VW.os, will provide a consistent development environment. This will make it easier for developers to build and release robust functions and applications for all areas in the vehicle. In addition, the system will strengthen regular over-the-air updates, allowing customers to benefit from new and innovative features across the entire lifetime of their car.
How is VW.os structured?

VW.os is a comprehensive solution that supports all kinds of individual vehicle functions, as well as the overall system and connected services. It ensures the highest degree of safety requirements according to the Automotive Safety Integrity Level risk classification scheme. In addition, it can be used in hard real-time systems – which impose strict deadline requirements – as well as soft real-time systems.  

Our software platform is a wise mixture between open source, purchased components and in-house developed elements. This allows us to pick the right technology in a way that enables us to innovate on a manageable and robust system.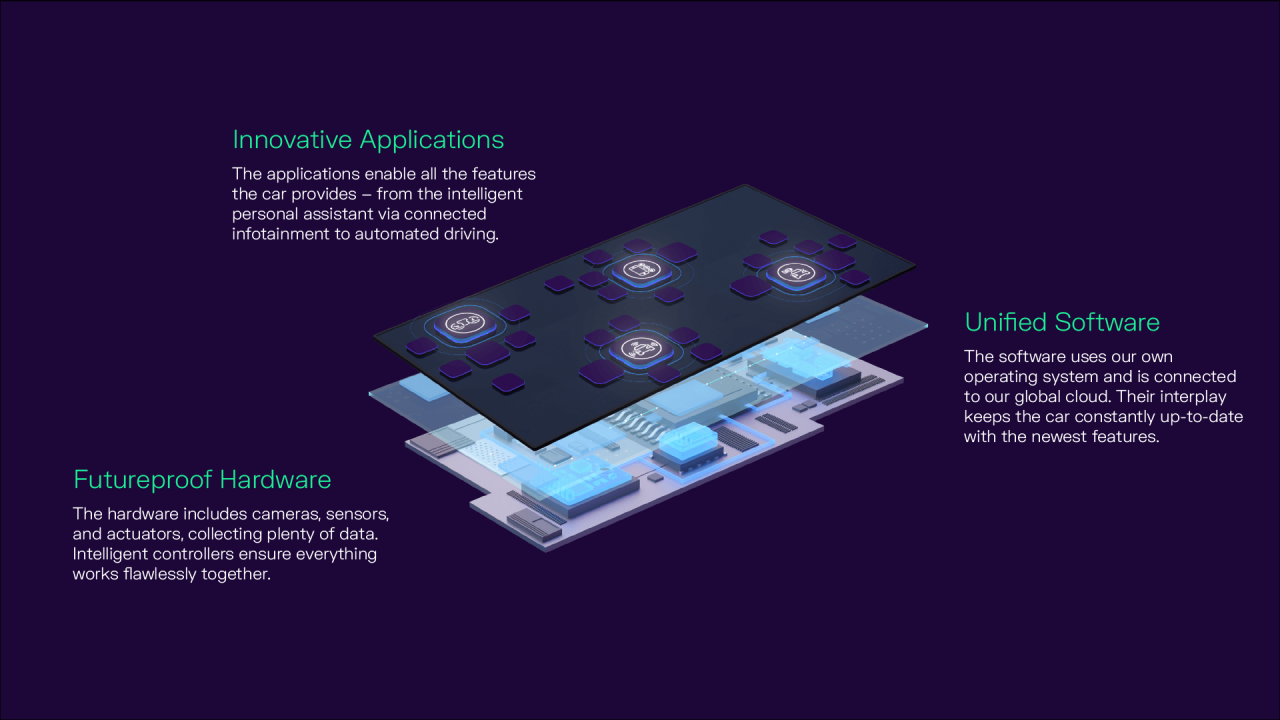 What are the benefits of VW.os and the software layer?

Modular vehicle platforms like the Volkswagen Group MQB and MEB form the physical basis of vehicles from several different brands. The same applies for VW.os and our entire tech stack: forming the basis of software across brands. This modular approach allows for greater simplification, efficiency and scalability.

Developers can focus on the function logic and do not have to repeatedly implement every detail of the basic technologies repeatedly. This allows them to focus on added customer value. At the same time, development cycles and turnaround times are significantly reduced thanks to a deeper understanding of the overall system.

In addition, a uniform software platform ensures stability of the development environment. Hardware changes do not necessarily lead to adaptations of applications. A stable environment supports complex functionalities like ADAS/AD, which makes evolutionary function development possible in the first place even when system suppliers change.

Finally, by mastering key enabler technologies like the update cycle and data collection path, CARIAD and Volkswagen will retain control over the interface to the customer. A deep understanding of the overall system means faster problem-solving and reduced dependency. In the long term, simplified integration of the overall system will be an opportunity for significant cost reductions over the long term.

When will we see VW.os in the car?

VW.os is developed and released in an evolutionary manner. The full-scale software platform will be launched as part of our unified platform 2.0. However, individual components will already be available in the premium platform 1.2 for Audi and Porsche. This includes, for example, software updates, a connection to the cloud, as well as diagnosis and data accumulation functionalities. And as our development focus at CARIAD is always on scalable systems, we see potential to cover further platforms with VW.os as well.