CARIAD joins coalition for greater road safety through V2X technology
CARIAD joins Audi and other leading innovators in the automotive, bicycle and technology sectors to work towards advancing and deploying connected transportation solutions. The common goal: Help reduce the risks facing cyclists and e-bike riders on North American roads.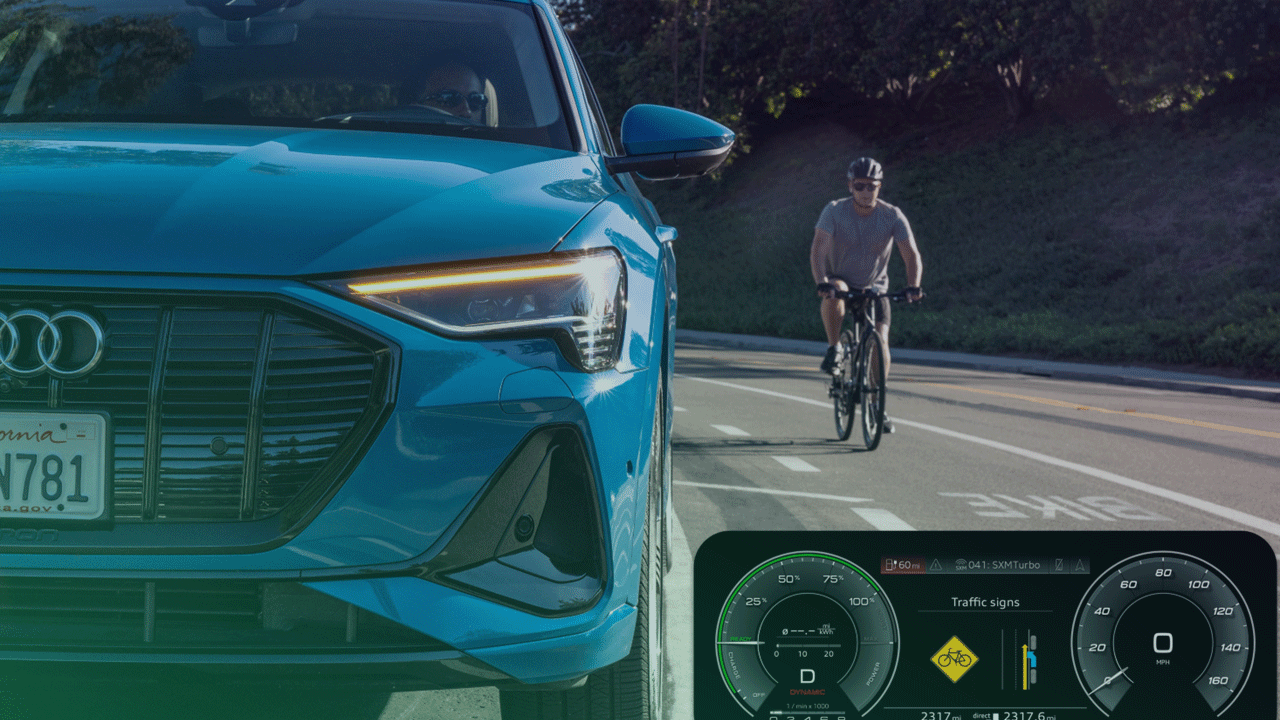 V2X technology

The new Coalition for Cyclist Safety represents their commitment to develop a comprehensive approach to bicycle safety centered on deployments of vehicle-to-everything (V2X) technology. V2X communication is poised to revolutionize the way connected cars and drivers interact with the world. It allows vehicles to connect with other equipped cars, traffic management, and smart-city infrastructure, paving the way for optimized traffic flow, energy savings and increased safety.
V2X products will be integrated into more and more Volkswagen Group's vehicles by CARIAD in the future, as V2X implementation is gradually gaining momentum around the world.
Through internal research, as well as publicly available data, Audi estimates there will be 5.3 million vehicles, work zones, railway crossings, bicycles, and other devices that will be capable of connecting using cellular V2X in the U.S. by 2025. By 2030, it is possible that numbers will increase to 61 million connected devices, including as many as 20,000 crosswalks, 60,000 school zones, 216,000 school buses, and 45 million smartphones.
The Coalition for Cyclist Safety
The Coalition for Cyclist Safety participants intend to work together on integrating bicycles into the future V2X communication ecosystem. By enabling V2X-equipped cars, bicycles and other road participants can recognize each other and create mutual awareness, thereby raising the possibility of lowering the number of injuries from crash situations.
Additionally, these efforts will benefit from insights and advice provided by cycling, safety and smart-transportation advocates and associations under an Advisory Committee of the Coalition.
Founding members of the Coalition for Cyclist Safety
Many companies from the automotive and bicycle industries as well as the connectivity, chip and software sector have already responded to the call for action and have pledged to support the initiative.


The founding coalition members are:
Automotive – Audi, CARIAD
Bicycle – Accell, AT-Zweirad, BMC, Bosch eBike Systems, Koninklijke Gazelle, Shimano, Trek Bicycle Corp.
V2X Technology – Autotalks, Commsignia, Qualcomm Technologies, Inc., Spoke Safety
Telecommunication – Deutsche Telekom, TELUS
The Coalition's Advisory Committee will include: ITS America, League of American Bicyclists, People for Bikes, and The Governors Highway Safety Association.
The V2X Coalition will begin its work in the United States and Canada. To start the topic and to gain early safety benefits, the initiative begins with solutions based on cellular V2X technology (C-V2X). From the United States and Canada, the initiative will explore ways also to bring joint industry approaches to Europe and other regions of the world.
Companies interested in joining the Coalition can reach out via this email address: info@coalitionforcyclistsafety.org