"The car will become a safe place"
In our #CodeThatMovesTheWorld series, we're talking to a few of our digital minds that work at CARIAD to get an insight into their work, see what drives them and hear about their visions for future automotive mobility. This week, we're talking to Halil Karacaoglu, User Experience Designer at CARIAD.
From a young age, Halil dreamed of designing cars. During his studies at the Hochschule für Gestaltung (University of Arts and Design) in Schwäbisch Gmünd in the south of Germany, the 32-year-old realized that his drawing skills weren't enough for a long-term career. The dream of being a creative automotive designer seemed unattainable – that was until Halil decided after his bachelor's studies to take a degree on the Internet of Things (IoT) and interface design. With his now combined knowledge of techniques, technology and user experience, he began his professional career as a UX designer about two years ago at Carmeq GmbH. The Baden-Württemberg native has now been working at CARIAD in an interdisciplinary team since the end of 2020. In our interview, Halil tells us why it was here that he fulfilled his childhood dream and where he sees the car in ten years' time.

Halil, you've been working at CARIAD for half a year now. How were your first six months?
It's been great – there are a lot of open opportunities for me to participate and develop myself. From UI design and UX to user testing and motion design, there's everything here that excites me. Now I've realized that interface design is much more my thing than draw shapes (laughs). I'm much closer to people and can better understand structured approaches: Which sort of operation is logical? What feels good? What's unnecessary? What do users really want to see and experience? These kinds of questions are what drive me.
As well as my actual work, I find the interdisciplinary and international communication between various people really exciting. I work together with designers, developers, user researchers, and project managers – all of them are experts in their fields. The teams are really diverse, and you can learn a huge amount from your colleagues' expertise. That variety is what really makes us who we are at CARIAD.
Sounds like a great job! You'll have certainly made a lot of readers curious about your position. What do applicants need to bring along for a job at CARIAD?
The most important thing is of course a passion for the transformation of the automotive industry and for everything that we're working towards. Everyone can bring their own strengths to CARIAD and help to shape our shared vision. Of course, it's an advantage if you have a good knowledge of some common tools and understand structured approaches. You get plenty of freedom to build your own software setup here that you can use in your work. For example, I discovered an interactive prototyping tool called ProtoPie. Our principle is 'try it out and just do it'.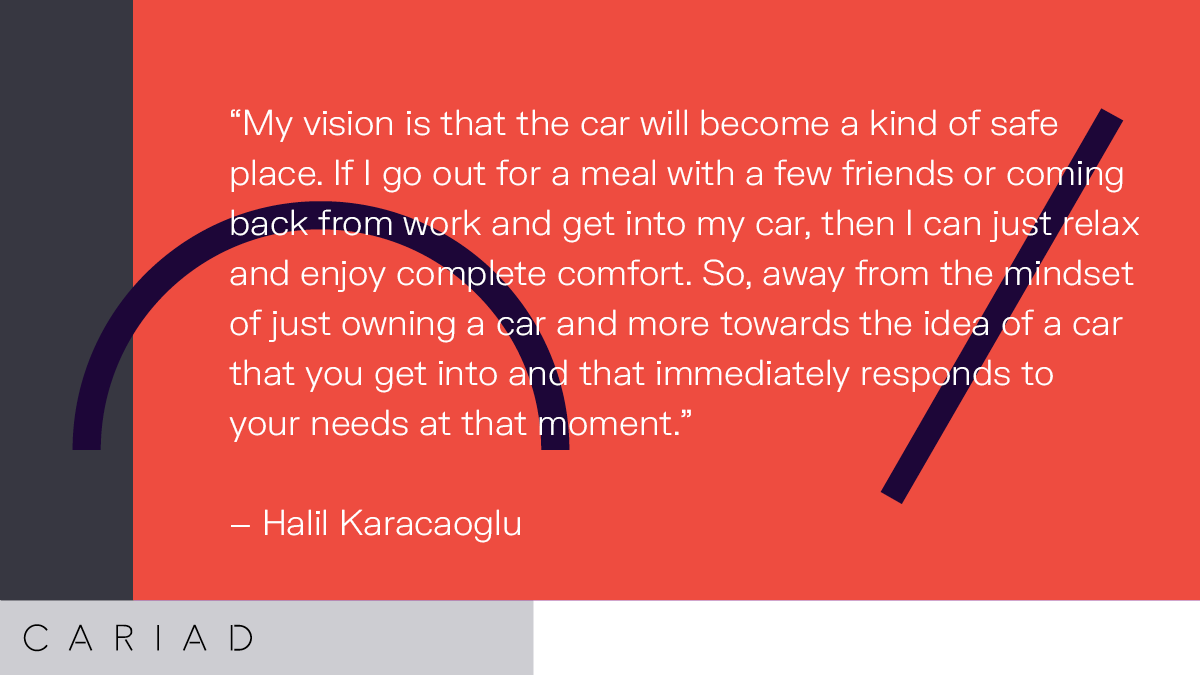 So, you have the absolute freedom of choosing your own selection of software, tools and methods?

We make sure that we're using the best and most appropriate tools and methods for our work. We're currently developing a tool chain that will benefit not just one person, but everyone. If I create a design on Sketch, for example, I have to ask myself how my work can be implemented as a prototype in Framer or Shift. The usability of design systems needs to work well across teams, too. Various components like buttons, fonts and scrollbars should ideally be accessible to everyone. A 'single source of truth' ensures that all colleagues at CARIAD can work with a file.
Your work is contributing a significant amount to the paradigm shift in the automotive industry. You're shaping future mobility and designing the car of tomorrow. What do you find most exciting about this transformation?
As part of this change, the car will become increasingly more automated – that opens up a whole load of opportunities. You can use the time spent driving for something else. That could be doing work, watching films, listening to music, relaxing, having a massage or just sleeping. We want to offer services in the car that you ordinarily use outside of the car. These new opportunities are also going to completely change the model of carsharing. In future, the car will work alone. That means, for example, that it'll automatically update or repair itself.
Speaking of updates, what can CARIAD do to make mobility even more connected?
With regard to automated driving, the car will certainly be more developed than it is now. At CARIAD, we want you to be able to get into the car and have everything arranged as you like it. It should be a familiar environment that responds to the customer's expectations. You'll probably even be able to do without a car key in future, since there are already alternative options for that.
In our last interview, your colleague Moritz wanted to know whether you can think of a feature that, from a UX point of view, will reinvent the car of the future. Could you give an example?
Imagine that the car completely adapts itself to you and that it's already waiting for you as you're walking over to it. Using data analysis, it can predict what you want and act as an intelligent assistant. Your favorite podcast or playlist plays straight away, and at just the right volume for you and your current mood. And you only have to say the words 'I am hungry' and the car shows you all nearby vegan restaurants because it knows that you're a vegan.
The name of our blog series is #CodesThatMovesTheWorld. What's your 'code' to change the world?
My vision is that the car will become a kind of safe place. If I go out for a meal with a few friends or coming back from work and get into my car, then I can just relax and enjoy complete comfort. So, away from the mindset of just owning a car and more towards the idea of a car that you get into and that immediately responds to your needs at that moment.
Next week, we'll be meeting your colleague Toshika Srivastava – a true expert in artificial intelligence. If you could ask her a question, what would it be?
AI is certainly the most exciting technology of our time. I'd be interested to know what Toshika thinks the biggest challenges in machine learning and automated driving are. Has there been a particularly significant issue or development in the past few years?
Join our journey.

We are CARIAD. We're transforming automotive mobility. Let's build the leading tech stack in the automotive industry together.