"Mobility must be considered as a whole"
In our #CodeThatMovesTheWorld series, we're talking to a few of our digital minds that work at CARIAD to get an insight into their work, see what drives them and hear about their visions for future automotive mobility. This week, we're talking to Carmen Krumm, Function Developer - Electromobility.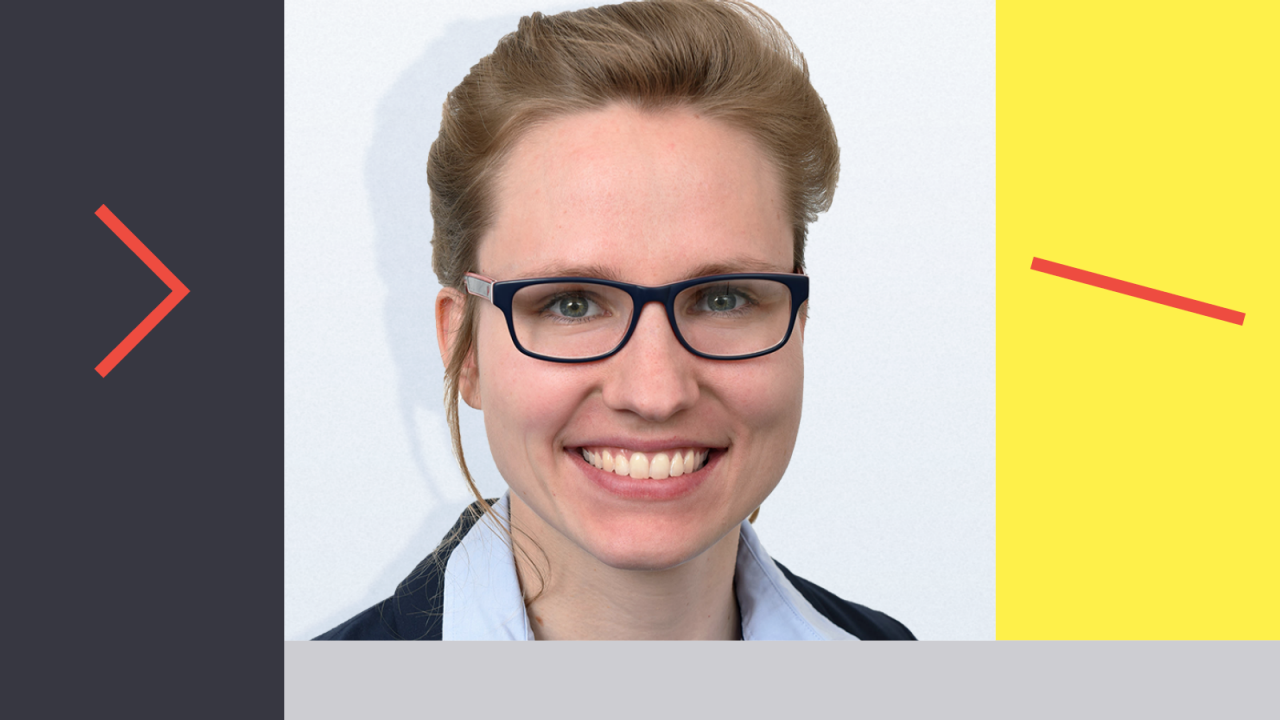 Born in a small town north of Berlin, Carmen has always had a great fascination with the areas of sustainable technology and renewable energy. She took a bachelor's degree in environmental and energy process engineering, even travelling to Brazil to research and write her thesis on solar power. This was followed by an internship in the area of wind power at Siemens in Denmark, and later a master's degree in sustainable energy systems, with a thesis on dynactive power at Continental.
In 2018, Carmen joined Carmeq, which was later integrated into CARIAD, and brought her passion and experience to the role of Function Developer in Electromobility. In this interview, she tells us about the most important considerations in developing these functions and where she sees electromobility in the next few years.
Hi Carmen, how would you describe your current role at CARIAD?
In my role, I'm responsible for developing functions that concern electric vehicles and high-voltage charging. These functions are very heavily interconnected in two ways. Firstly, in the sense that the working methods involve communication across numerous brands in the Volkswagen Group, including Volkswagen, Audi, Porsche, SEAT and Škoda. And secondly, they're very interconnected in terms of the vehicle architecture itself. When developing vehicle functions, we always begin with the needs of the customer and consider specific use cases. From there, we take our thinking to the car and vehicle architecture, and consider how a function will need to perform and be developed to meet the demands in that use case.
One of the functions that I previously helped to develop has to do with networking vehicle data across Volkswagen Group vehicles like the new ID.3 and ID.4. The aim here is to improve the quality of charging data.
What are the most important considerations when you're developing these new functions?
Of course, the single most important consideration is the customer. Our focus is always to ensure that the customer is happy and that they are able to find an appropriate charging station. They want to know that their car isn't going to run out of charge. They might also like to have the option to reserve a certain charging station so that they can plan their route in advance. That opens up the possibility of entirely new business models that need to be thought out, and which wouldn't function at all without digital networking of charging data. To provide the option to reserve a charging station, we first need to enter into discussions with external stakeholders, such as the operator of the charging station, so that we can specify and agree on requirements.
The accuracy and reliability of charging data is another priority. For example, what's the actual charging time? Is it the same as the time shown to the customer or is it actually longer? And where is the precise location of the charging station? By improving the quality of data, we're helping to provide a smooth, seamless experience for customers with electric cars.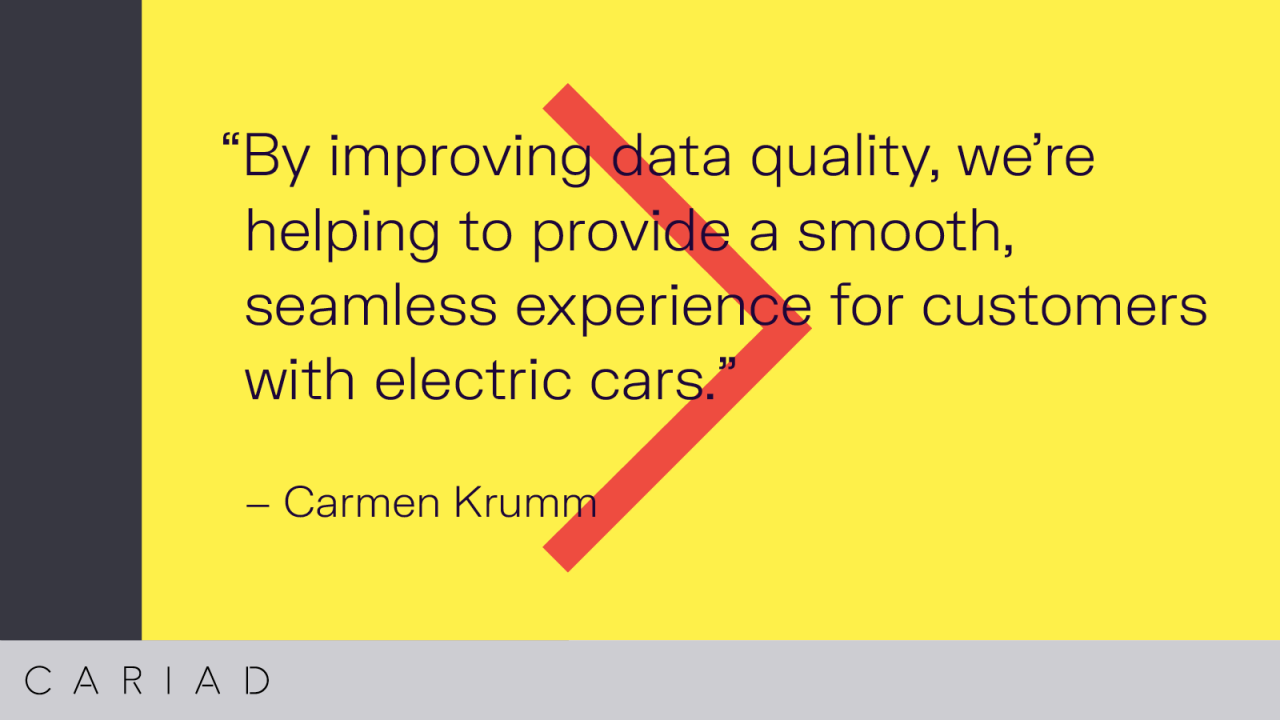 What do you find most exciting about the transformation of the automotive industry and your work at CARIAD?
I recently read through the latest Volkswagen Group Sustainability Report, which reported that there were three times as many electric vehicles sold in 2020 than in the previous year. Herbert Diess wrote that the electric drivetrain is, for the foreseeable future, the only solution to reach the objectives of the Paris Agreement. That, to me, is a very pioneering, game-changing approach. There will come a breaking point where the success of the electric can't be stopped. To be a part of that game changer as one piece in the huge puzzle is really exciting to me.
What excites me about the industry is not only the electric car, but electromobility as a whole – and how electromobility can become even more sustainable with the use of renewable energy sources. Having previously worked in the areas of wind and solar power, I'm excited to continue working towards positive environmental change in my role at CARIAD.
What do you think we can expect from electromobility in the next few years?
There will certainly be a lot more exciting functions in electric cars. The customer experience will be much more comfortable, more elaborate and well considered. Charging will also be a far more integrated part of daily life and no longer seen as an obstacle. When you come home from work in the evening, you'll park your car in the garage and go to sleep and then, in the morning, it'll be fully charged. There won't be as much of a need to go to the charging station anymore because either a robot has come along and charged the car for you or the car has autonomously driven itself to the station.
Personally, I think it's also important that mobility is considered more as a whole. Transforming mobility isn't purely about transforming the car itself. When developing vehicle functions, we also need to think about how the car will interact with the world around it, including bicycles and pedestrians, for example. With that wider perspective and better collaboration with others, we can ensure that we transform mobility in a way that can have a strong, positive effect on society.
Last week, we spoke to Peter Kanischew, who works as a Project Manager for Project SUSAN. He'd like to know how you think you can successfully adapt to the new working structures at CARIAD, such as agile work and scrum?
I recently had the chance to work as part of an agile setup, using the scrum framework. For that kind of working structure to be successful, it needs to be understood and adopted by the entire organization, not just the developers. We certainly have that commitment from management at CARIAD. Agile working methods are very comfortable when you have a well-functioning team.
Join our journey.
We are CARIAD. We're transforming automotive mobility. Let's build the leading tech stack in the automotive industry together.