Our mission to advance software-driven development
Marius Asselmeyer, Head of Corporate Strategy & Process Model at CARIAD, taking responsibility for our mission to transform the Volkswagen Group into a software-enabled car company. At the recent Automobil Elektronik Kongress, he explained how CARIAD's approach will meet shifting user demands.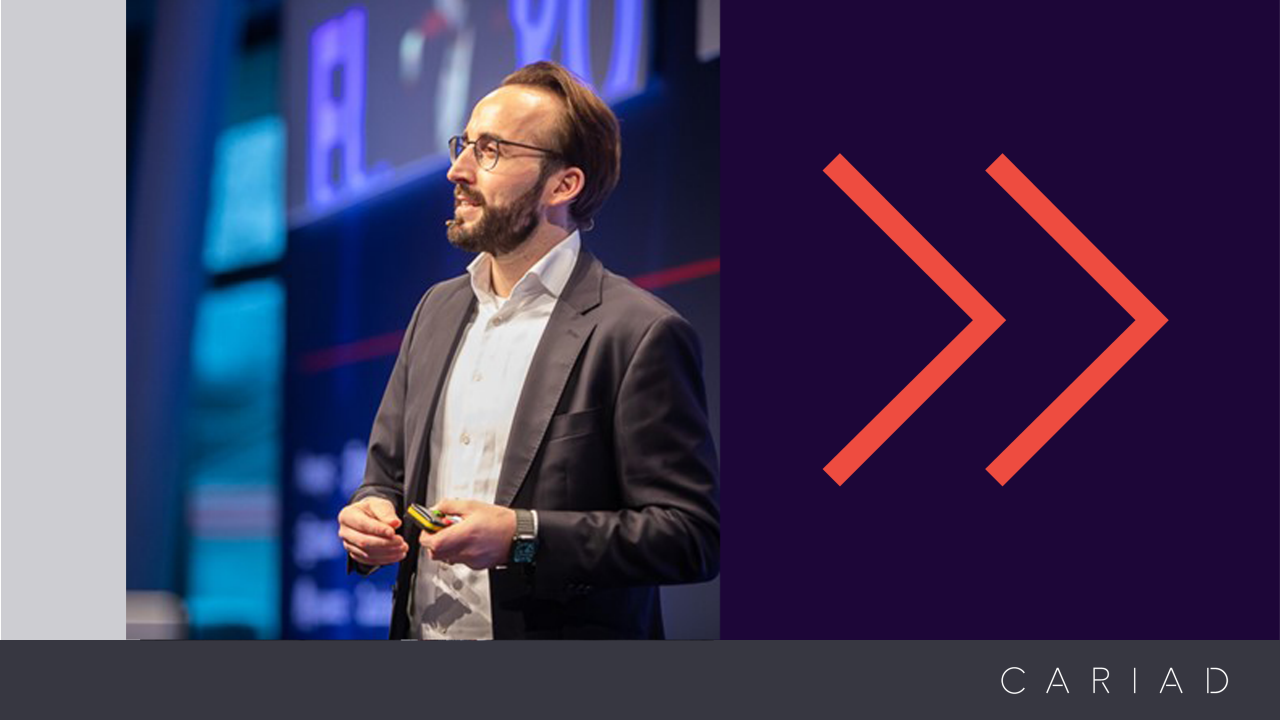 Marius Asselmeyer, Head of Corporate Strategy & Process Model at CARIAD. Copyright: Matthias Baumgartner
The car industry has seen a lot of change in the space of just over a century. Personally, I see the current digital transformation as the most exciting point in the automotive industry. Just as Henry Ford introduced the Model T car in 1908 – widely considered to be the first affordable, mass-produced vehicle – we're defining the new future of mobility.
It's this vision that drives us at CARIAD. Our strategy is aimed not only at transforming the Volkswagen Group into a software-enabled car company, but also guides us as we reshape the automotive industry as a whole. If we want to keep the value creation with us as an industry, then we all have to change – now.
How are user expectations shifting?
Firstly, let's consider just how drastically user demands are currently shifting and changing. Today, we're presented with virtually endless technological possibilities. Take a look at RAM and storage, for example. The Apollo computer that guided Neil Armstrong and Buzz Aldrin to the moon only needed 32,768 bits of RAM. That's right – 4096 bytes or 4 kilobytes. Now, let's compare that to the current iPhone 12 Pro, which comes with more than one million times more storage space out of the box. And looking at the hard drive, where data is stored and saved for longer periods of time, the values here have multiplied by a factor of 7 million – the iPhone 12 Pro comes with 512 gigabytes of memory, while the Apollo Guidance Computer had to make do with just 72 kilobytes. Today, supported by new storage capabilities, AI and data-driven development are creating new use cases and features, as well as entirely new business models.
At the same time, we're witnessing an explosion of customer expectations across all industries. Tech companies are better understanding their users and anticipating their demands. Thanks to data-driven software and technology, users can get what they want, when they want it.  And all of that via a smartphone, smart watch or smartphone – completely connected. We're all spoiled for choice.
Out with the old, in with the new
What does all this change mean for the car, and for us at CARIAD and the Volkswagen Group? It means that it's now become our job to take this user experience, constant connection and immense experiences and bring them into the world of automotive mobility. To achieve that, we need to turn our perception and understanding of the car, its purpose and capabilities on its head.
In the past, it was all about having a fancy design, leather seats and a high-performance engine. But now, and as we look to the future, the car is moving up to the next level and becoming another smart device. As I mentioned above, customer expectations are exploding across all industries. For us, we need to ensure that the car – and with it, the customer experience – is always fresh and up to date. We need to constantly offer our customers a 'wow' moment – something to truly surprise them.
So although areas like design, quality, comfort and safety will remain crucial purchase criteria, things are becoming less related to the vehicle itself and more to the software that surrounds it. For us, this means changes across the whole company. We're moving away from the thought of individual products and towards a platform. From car manufacturing to software engineering. From vehicle to mobility device. From vehicle ownership to usage-based subscription models.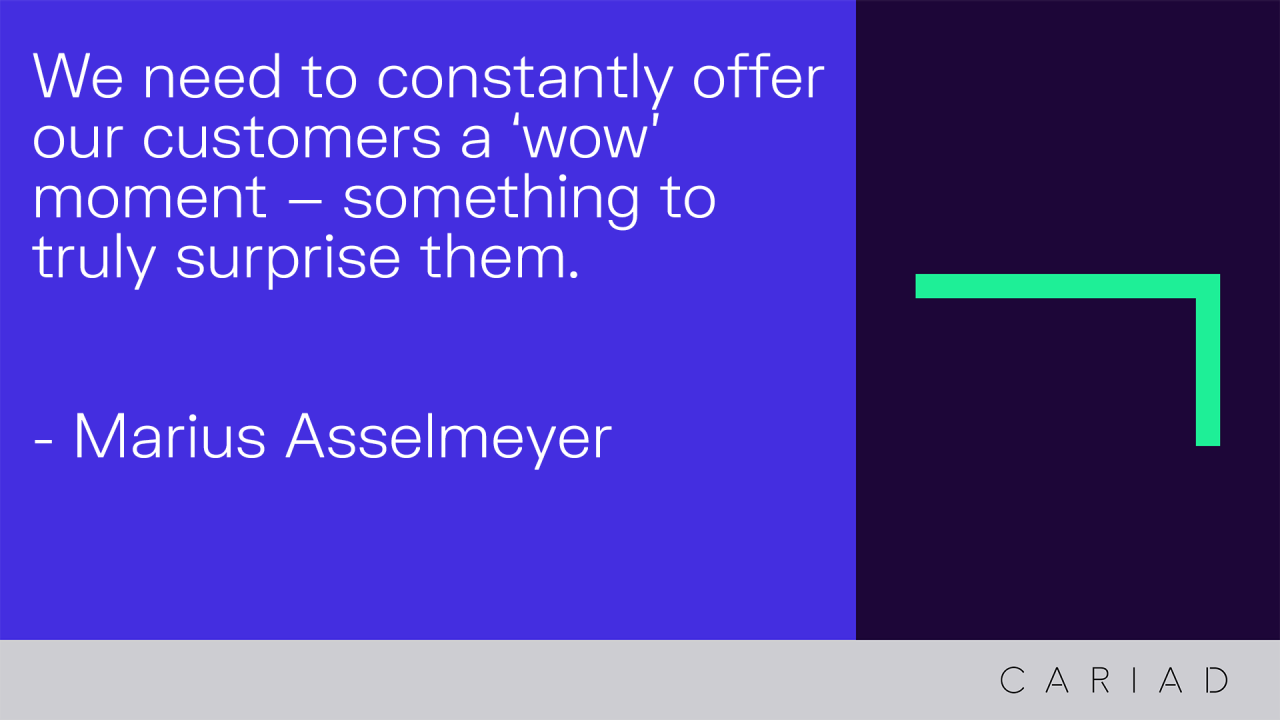 Where does this change come from?
We expect that a third of the total revenue of the Volkswagen Group will be a result of software. This figure really puts things into perspective and makes it clear that we're not just talking about some niche offer. At the same time, we see the industry as a whole moving at a rapid pace. New players in the tech industry are arising, companies are beginning to build cars around software, and traditional OEMs are forging partnerships with tech corporations to drive the development of software and automated driving.
Our strategic direction at CARIAD
To remain competitive, we need to match and exceed this pace. The Volkswagen Group needs to broaden its product offer and take advantage of the vast potential of software, which is the whole reason that CARIAD was founded last year.
To drive these software-driven changes and ensure that our work constantly reflects the shifting requirements of our customers, we need a strong strategic direction. This direction is based on our CARIAD tech stack – our software and hardware platform 2.0. But on the way to developing this unified software platform, we have to go through important evolutionary stages. This begins with software platform 1.1, which is already implemented in the Volkswagen ID.3 and ID.4, as well as Audi Q4, Skoda Enyaq and Cupra Born, and keeps these Group brand vehicles constantly up to date thanks to the over-the-air update functionality.
Additionally, our developers are already working on the next stage of our platform, platform 1.2, which will be used in models such as the electric Porsche Macan and Audi Q6 e-tron from 2023. This will feature a new unified infotainment system, One Infotainment, based on the open-source building blocks of Android Automotive.
And, of course, we're working flat out on the end product – our software platform 2.0. This will fundamentally change the way we've developed cars up to now. The platform is modular and scalable from the entry-level segments to the luxury and performance end of the spectrum. It'll be in Group brand vehicles as of 2025, with Level 3 driving functions and Level 4 readiness, which can later be updated over-the-air. It includes a uniform operating system, with a constant connection to our Volkswagen Automotive Cloud.
With this evolution via 1.1 and 1.2, and then revolution to 2.0, we're making a transition from our previous product cycles in the Volkswagen Group to a new logic with continuous development cycles. We're doing this because it's our goal to bring every function and feature to the user, wherever they are and at any time.
This is a huge challenge. But it's also a huge opportunity for us. Thanks to our Big Loop solution, we'll be able to constantly evaluate, process and learn from real-time data gathered from a large pool of connected vehicles. By 2030, this pool will consist of up to 40 million Group vehicles. It'll help us to improve existing functionalities, as well as develop entirely new functions and business models.
What we're addressing today will shape our industry and the automotive experience for customers in years to come. We at CARIAD are in the position to revolutionize mobility once again – just like Henry Ford before us.
Interested in working on innovative and pioneering projects? Join us.