New generations show increased affinity towards in-car gaming
A gaming study conducted by CARIAD and Newzoo provides regional insights into the perception of embracing in-vehicle entertainment.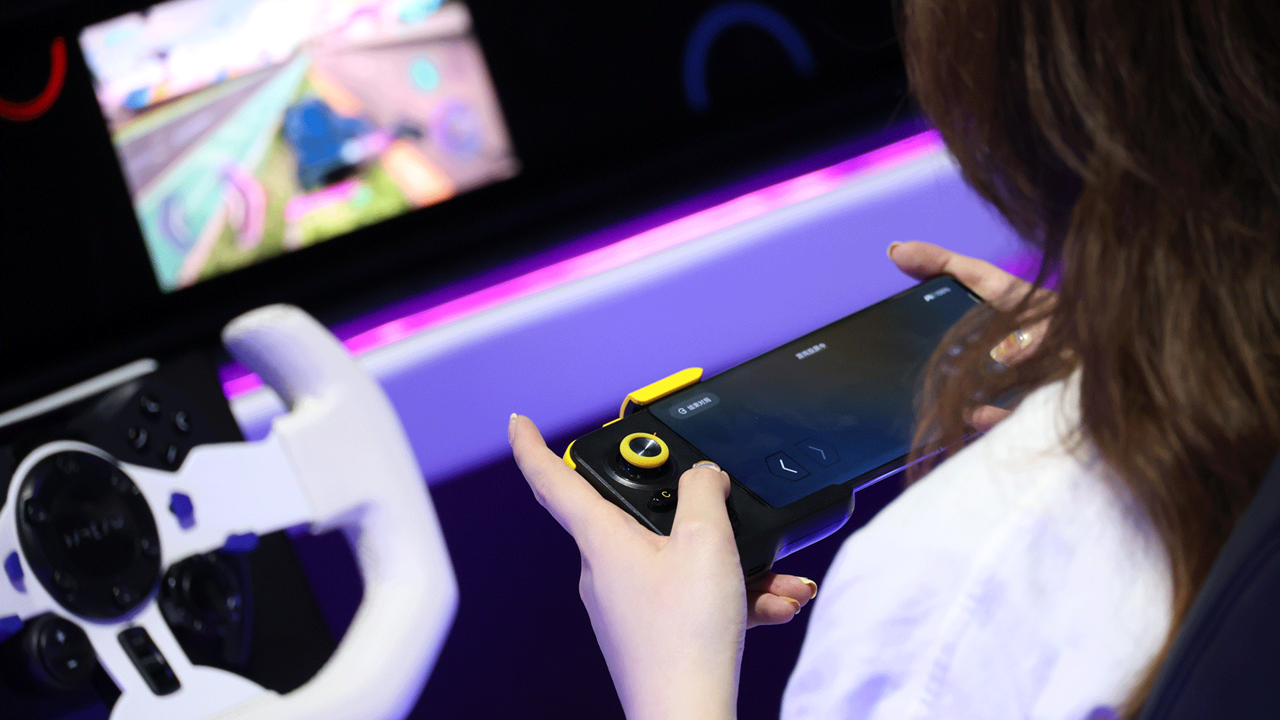 The in-car gaming market continues to shape up worldwide, reflecting the shifting motivation of car owners and occupants. As competitive automotive technology brings unique and personalized ways to transform the in-cabin experience, the vehicle is poised to become a novel and unique space for playing games.

To better understand the existing perspectives of the gaming target group and their inclinations towards in-car gaming, CARIAD conducted a joint study with Newzoo, the market leader in gamer data, to take an in-depth look at the nuances of gaming cultures, and their relationship to in-car gaming and mobility. The goal of this study was to gather first-hand data and analyze the demography of the gamer user base across three major automotive markets: Germany, the USA, and China. The study draws on quantitative research design to understand the growing desires towards using the car for quality entertainment.
Future car owners expect fusion of gaming and mobility
To begin with, when we look at our current gaming audience, the study reveals clear patterns of deep integration in their digital lifestyles, further underscoring the importance of in-car entertainment. 9 out of 10 Gen Z play games on a regular basis. The roles of Gen Z and Gen Alpha as future car owners and consumers positions them to make a significant impact on the gaming as well as on the automotive landscape. This new audience brings new expectations on the various facets of in-vehicle entertainment that is essential to examine. It aligns with the fact that this segment in China is readily prepared to spend their time well, by engaging with games that bring them comfort and relaxation.
How is CARIAD addressing this? We have already released leisurely, easy-going games in Audi and Porsche series production in China to fulfil their evolving expectations and adding more value to their experiences. The customers are showing great affection to the games we have launched.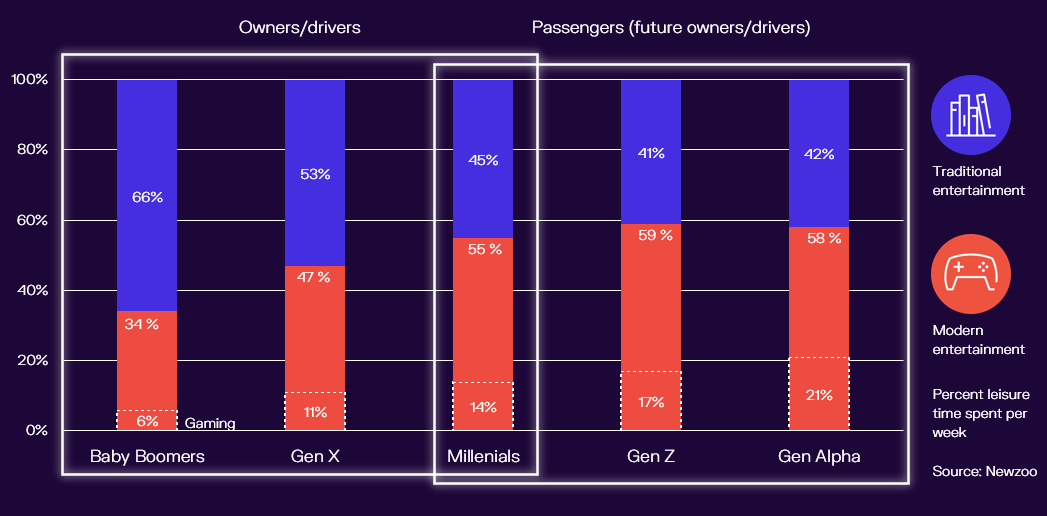 With new generations of car owners, gaming expands its reach.
Now, let's look at how the consumption of gaming content differs across the three markets. According to our data, respondents in China once again demonstrated to spend a greater amount of time playing games compared to their US and German counterparts. While those in Germany and US played 3 to 6 hours of games every week, the target audience in China spent at least 10-15 hours over the same period. This increasing prevalence towards entertainment suggests a cultural phenomenon, reflecting a larger part of Chinese digital lives.
Engaging with entertainment during journeys
The commonality between all three markets was their receptivity, the option to interact and engage with games on the move. Data also revealed that along with the degree of affinity, China's new gamer audience, from passengers to owners of vehicles, is transitioning towards playing games on the move as well as whilst during standstill. However, due to limited exposure to in-car gaming, this exists within online platforms such as smartphones and tablets.
The recurring theme was ''If I can play games and I am comfortable, then I would be happy to spend extra time in a car''. The fact that any proposed features seemed to be, at the least, 'expected', can be attributed to this market's high technological affinity. It was confirmed that regardless of the limited in-car gaming experience, respondents from China remain ahead of the receptivity curve. They are already engaging or are attracted towards gaming technology in their vehicles, compared to their forebears. The perception gathered from this study reflects the current generation's affinity towards turning their car into an entertainment console, to maintain a digital experience that goes beyond classical locations of interactive entertainment consumption. This goes on to imply that a well-defined strategy of introducing an exclusive experience with future cars will bring that 'wow effect' to customers.
The main reasons for contention in the three demographics were contextualising information such as the intuitiveness of using the entertainment display touchscreen. Cloud gaming, although a segment expected to grow in importance, appeared to be at the nascent stages of gaming awareness, where advanced hardware and good internet connectivity were the primary indicators of concern. This supports the notion that the advantages of cloud gaming must be strongly coupled with a core marketing message that challenges the existing assumptions of consumers.
Diverse technology influencing in-car entertainment
To this end, CARIAD is intensively working towards bringing new features, such as infotainment, that are already part of production vehicles. For example, holoride, a spin-off out of Audi, has been launched for a wide range of Audi vehicles, bringing the immersive experience to consumers. It uses motion data to deliver entertainment through virtual reality headsets that show scenes synced to steering, accelerating and braking. CARIAD has played a significant role in its delivery. And with current developments in progress, the convergence of physical and virtual spaces, dubbed "Metaverse-On-Wheels" by holoride, is expected to further expand immersive gaming experiences.
Yet, holoride's offering doesn't stop at gaming. The product also serves the well-being dimension of car owners, offering educational content as part of a holistic experience. Launched in Germany in 2022, it's on the way to more nations around the world.
Earlier this year, CARIAD also launched the Group Application Store for the Volkswagen Group brand cars. Beginning with Audi vehicles, this unified digital in-car experience has opened the vehicle to third-party developers such as Spotify, as well as games offered by Famobi, FRVR, Mobile Game Hub, and Vector Unit.
Building on developments with a scalable platform approach, CARIAD is positioning in-car gaming as part of an enhanced, core experience for Volkswagen Group customers. The findings from the study conducted by Newzoo bring key trends to the fore for CARIAD and Volkswagen Group brands, helping to identify and reinforce value not only for our customers, but for gaming customers and occupants in specific, and are informing upcoming developments.