How can data help to improve road safety?
A recent project study involving Volkswagen Group Innovation, NIRA Dynamics AB (a subsidiary of CARIAD) and the city of Hamburg gives us a glimpse into the future and shows us how data can improve safety in the urban environment.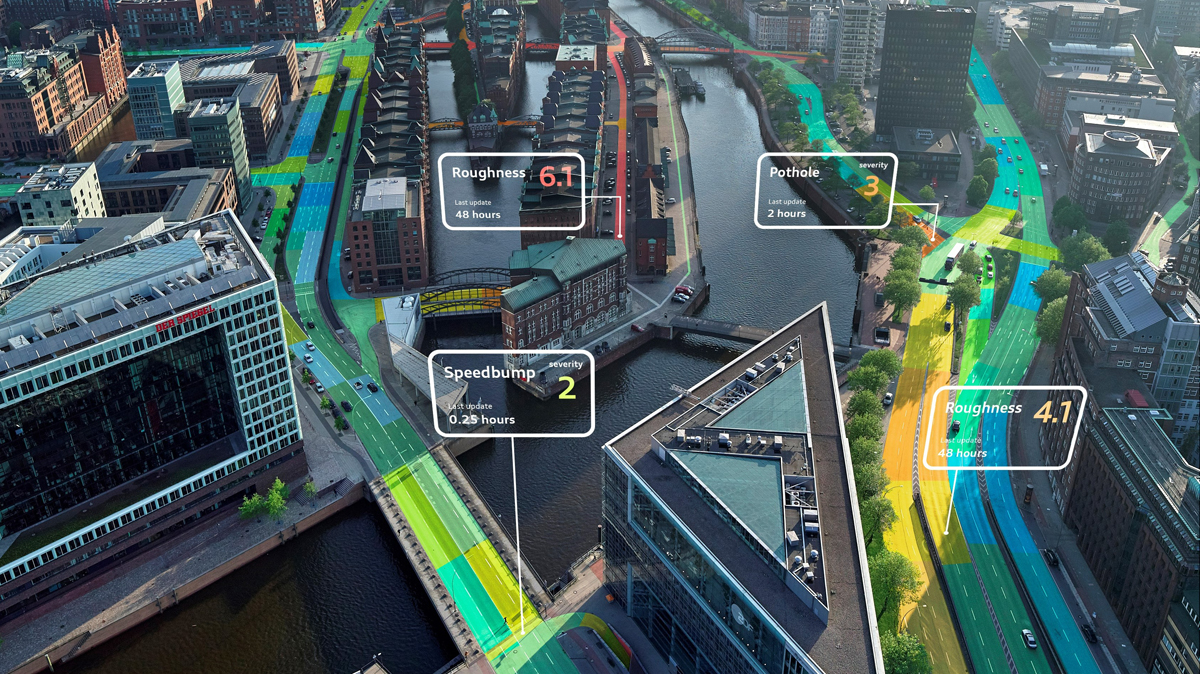 How data can increase road safety is shown by a project study in the city of Hamburg
Data is what drives us at CARIAD. Not only is it the very essence of a tech company, but it's also a crucial part of the Volkswagen Group's NEW AUTO strategy. It's this strategy that will guide the transformation of the Group into a software-oriented and data-driven mobility provider by the year 2030.
We can gather environmental and performance data from the numerous sensors built into modern Volkswagen Group brand vehicles. This sensor data helps us to develop future driving functions – even more effectively when used in tandem with solutions like the Big Loop – but it can also provide significant added value for citizens, cities and their administrations. One core area where this added value becomes clear is in the improvement of safety in urban traffic.
But what does this mean in concrete terms? What specific safety benefits can vehicle and sensor data offer? A project study involving NIRA Dynamics AB, a subsidiary of CARIAD, has given us a few initial answers.
Benefits for winter safety and road maintenance
The project study was carried out Volkswagen Group Innovation in collaboration with the city of Hamburg. A key objective was to review and assess data gathered by vehicles in near real time. Using the data, the project partners could then derive possible applications to contribute towards greater safety in urban traffic and support maintenance management in cities.
To put this into context, let's take a look at a couple of examples of real-life applications. Firstly, the sensor data could, in future, help the city of Hamburg to manage its winter services more quickly and efficiently. When driving through the city, the vehicle gathers information such as outside temperature and tire grip. A road friction value – measured on a scale from 'very slippery' to 'very good tire grip' – is used to estimate how wet or icy the road is and is shared by the vehicle with the public authorities. If the vehicle sensors detect a low temperature and low level of tire grip, this would indicate to the public authorities that the road conditions in that particular area, or on that particular street, are icy. The city could then send gritters to that area, where traffic safety is at risk. Findings from NIRA Dynamics' existing collaboration with Sweden and the Netherlands have already shown that this can save up to one third of road salt. So it's a big win not only from a safety perspective, but also from an environmental point of view.
Another example is the targeted detection of road damage. The data gathered by vehicles helps to give a picture of the road conditions in almost real time. These conditions are quickly assessed according to different levels of quality, from 'very good' to 'very poor'. Vehicles can therefore notify the public authorities of areas with, for example, a lot of potholes or a particularly rough surface that may need particular attention and maintenance.
Huge potential from a massive data-collecting fleet
The project in Hamburg made use of Volkswagen test vehicles, as well as selected and specially identified taxis, which covered more than 35,000 test kilometers in the urban area in total. But this is just the start. The more vehicles with sensor technology that drive through the city, the larger and better the quality of the live database. This, in turn, helps us to detect changes in the condition of the roads more quickly over time, to react quickly to deteriorations and to rectify them.
NIRA Dynamics already offers data from series-production vehicles throughout Europe for public authorities. The company is also already in talks with other German and European cities to make the added value of this data available to even more municipalities. The more data combined from road users, the better the quality of the information.
At the same time, CARIAD is developing one unified hardware and software platform that will be able to scale up to support the entire Volkswagen Group. By 2030, this platform will be used to connect up to 40 million vehicles across all Group brands, forming one of the largest data-collecting fleets in the world. That's 40 million vehicles gathering data that could improve road conditions and safety in the urban environment. That's a huge amount of potential.