CARIAD brings WebEx into the car
CARIAD is partnering with Cisco to deliver elevated in-car meeting experiences, including best-in-class audio, seamless connectivity, and distraction-minimizing collaboration during driving to Volkswagen Group brands.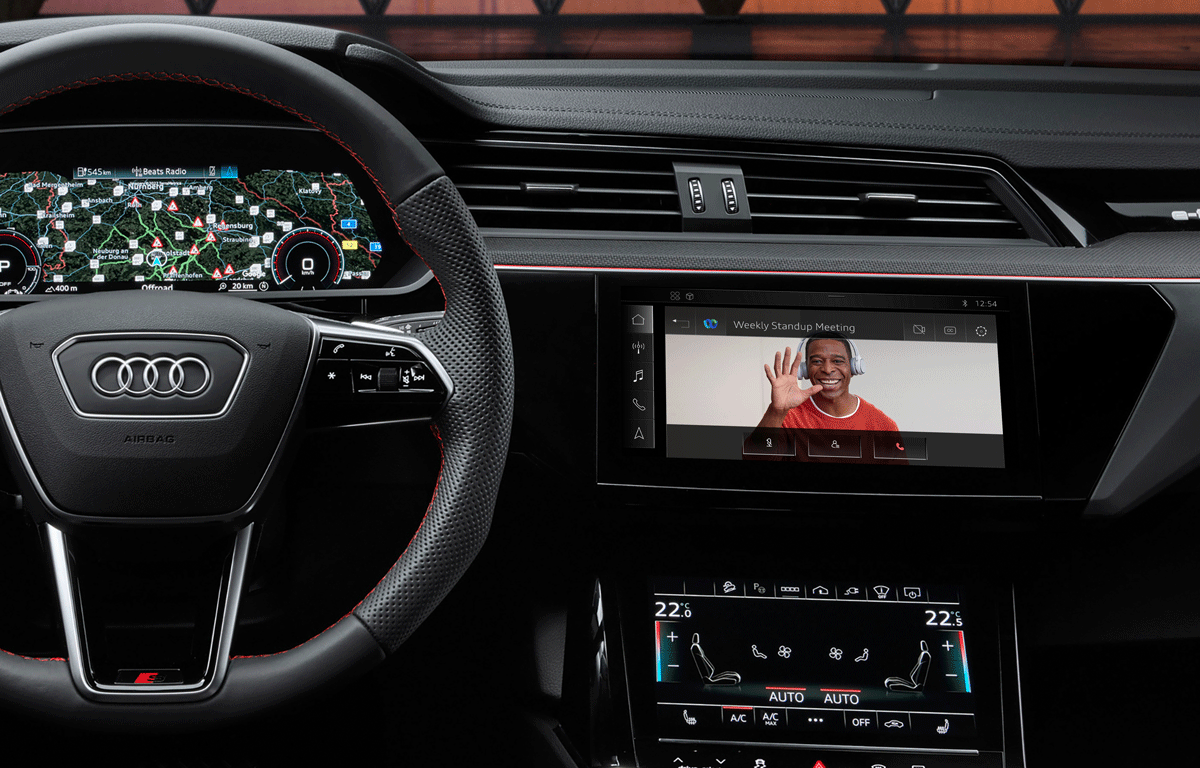 With the increasing popularity of hybrid work models, people now have greater freedom in determining not only how they work, but also where they work. This newfound flexibility has led to innovative ways of collaboration, including scenarios such as meeting while on the go from the car.
CARIAD and Cisco are partnering to enhance mobile car collaboration experiences for hybrid workers bringing Webex to the Group Application Store. The collaboration app meets consumer demand as increasingly people work on the go while prioritizing a safe and secure experience.
"We are excited to offer Volkswagen Group's customers Webex meeting capabilities that make hybrid work more convenient and adaptable," said Dr. Riclef Schmidt-Clausen, Senior Vice President Domain Intelligent Cockpit & Body at CARIAD.
The Webex automotive application will be available through the in-vehicle Application Store, with no phone needed for set up. With this simple setup, drivers can seamlessly transition from Webex meetings on their electronic devices to in-car meetings. Audi is the first brand to integrate the store in selected models as of the 2024 model year with additional Volkswagen Group brands to follow at a later time.
"With our new Group Application Store we will offer customers a vast variety of essential and popular apps, seamlessly connecting their car with their digital life," said Schmidt-Clausen. Adding: "Together with our Volkswagen Group brands and partners, we take the digital in-car experience to the next level turning the car into a smart companion for drivers."
Safe and secure experience
With features designed to prioritize safety, Webex goes into audio-only mode when the car is in transit to ensure that drivers can participate in meetings without taking their eyes off the road. When parked, drivers can take advantage of Webex's full immersive collaboration experience and are able to view meeting participants, shared content and closed captioning.
Drivers will also have access to Webex's built-in AI features for best-in-class noise removal and voice optimization. This will ensure that they can be clearly heard, without disruptive background sounds such as roadway noise or construction.
"We're on a mission to transform the connected car into another extension of the hybrid workplace," said Jeetu Patel, EVP and GM, Security & Collaboration, Cisco. "Our work with leading manufacturers like Audi and CARIAD will empower customers with a safe and seamless way to stay connected and be productive regardless of where or how you're working."
Available in select Audi cars this summer
As of July 2023, the Application Store will be available in new Audi production models of the Audi A4, A5, Q5, A6, A7, A8, Q8, Q8 e-tron and e-tron GT in Europe, USA, Canada, Mexico and Overseas markets. The store consistently ensures that the applications in the vehicle meet the high safety requirements of the Volkswagen Group.